Features
How Travel, Creativity, and Memory Inspire Chef Robbie Felice
Robbie Felice, the James Beard Award-nominated chef and owner of three of New Jersey's top restaurants shares the dishes that have inspired his career.
9:00 AM EDT on October 16, 2023
James Beard-nominated chef Robbie Felice has been immersed in the restaurant industry before he could walk. His father, Joe, was a restaurant owner, and Robbie fell in love with the business by growing up inside it, learning the ropes from his dad.  
After graduating from the Culinary Institute of America, Felice worked at Babbo in New York City and B&B Ristorante in Las Vegas, where he became sous chef. Hungry for more, he staged at Michelin-starred restaurants across the globe, including Sergio Herman's 2-Michelin-star Pure-C in The Netherlands and 2-Michelin-star The Jane in Belgium. From there he traveled to France, the United Kingdom, Italy, and Spain, where he was exposed to various cultures and cuisines, refining his technique and forging his own unique signature and style. He landed back in New York City in 2015, joining 2-Michelin-star The Modern and then a year later, he embarked on a new journey, to open his first restaurant, Viaggio, with his father in their home state of New Jersey.
Seven years later, Felice also owns Osteria Crescendo and the critically acclaimed pastaRAMEN. All three restaurants were dubbed among the best in the state by New Jersey Monthly. 
Felice has culled his culinary memories to share the five dishes that have most inspired his career.
Mema's Sauce
It's so cliché, I know, but my grandma's Sunday sauce is my first inspiration. When I was growing up, until I was around four years old, my parents and I actually lived in my grandma's basement. Mema tells a story of when I was super little, she remembers me cracking the door open when I would smell her starting to cook on Sundays. I'd scurry up the stairs to help her. She'd make a traditional kind of Sunday sauce that an Italian grandmother would make with tomato sauce on all day. She would make her meatballs. Every Italian family says their meatballs are best. I definitely love hers more than any other meatball I've ever eaten, including my own. There was braciole in there, pork sausage, all that good stuff. She would go to the butcher shop on Saturdays to get everything she needed, and on Sunday, she would make her sauce. It absolutely hits home, this younger memory of food. I definitely remember running up the stairs and the smells. I remember her helping me mix the meatballs with my my hands and how cold the meat was.
When I opened my first restaurant, Viaggo, one of the biggest hit dishes on the menu was Pappardelle alla Mema. On Sundays when she would make that pasta sauce, there was always leftovers, and she would chop up the leftover meats and turn it into a ragu. Then she would make homemade pasta and serve that to me. So we literally put that dish on the menu where we make our own sauce like Mema and serve it over pappardelle.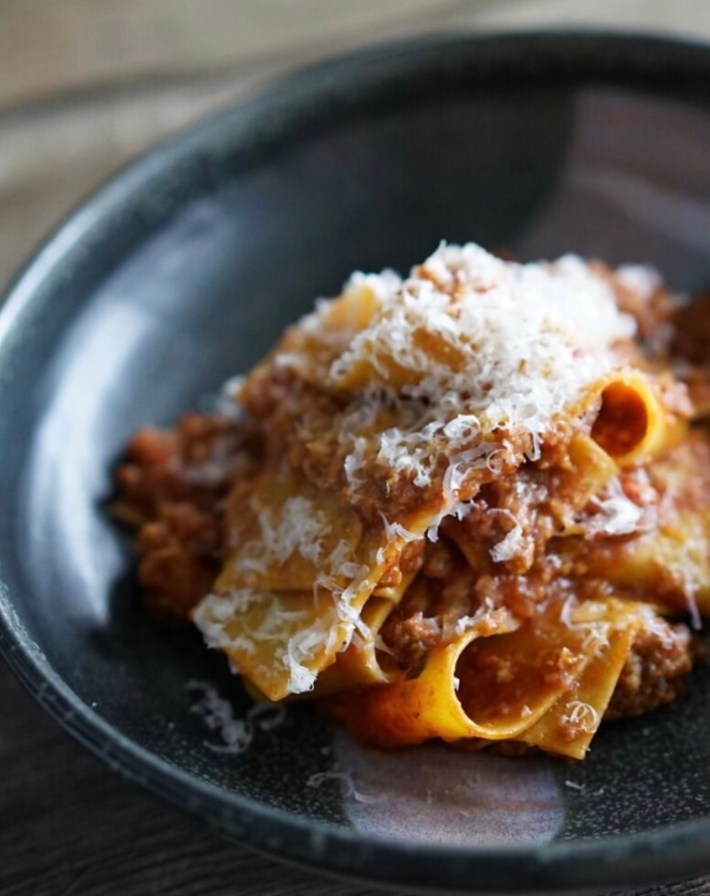 Pappardelle alla Bolognese
When I was in culinary school and pursuing an externship, I really wanted to work for Mario Batali. I thought he was just an absolute rock star. Once I really started getting more and more into food, I would love going to his restaurants and be in awe of how simple the food was yet so impressive. There was never this foo-foo approach, no dots and garnishes or whatever. It was always super simple, but the dishes always blew my mind. One of the first times I ever went to Babbo, I got the Pappardelle Bolognese, and it was very simple, but I'll just never forget it. When I was eating, I kept asking myself: Why is this so damn good? I knew I just had to work there. It was so over-the-top good. It just screamed Italian food. It screamed what I wanted to learn. And sure enough, I ended up doing my externship there. I even went back after I finished school and worked at Babbo. And then I continued to work for Mario Batali for a really long time, and that dish really set off my career.
Cod Five Ways
After working and traveling around America, I finally pursued my dream of moving overseas and backpacking through Europe, while also cooking and learning. I worked for one of the most inspirational chefs in the world, Sergio Herman. His restaurant was called Pure-C, and it was a 2-Michelin-Star restaurant located in the Strandhotel in Cadzand-Bad, Netherlands. He had a dish on the menu of cod fish five different ways. Cod is enormously important in the Netherlands, and his interpretation of it was so unbelievable and impressive. It was five different, little ceramic dishes that had a different bite in each, served on a wooden board. Every single dish tasted super different from the last. It was just an eye opener as the thought and execution that went into was absolutely unbelievable. It opened my eyes to how creative you could possibly be with both presentation and delivery. I don't think a lot of people are going to like me saying this, but I feel that here in America a lot of these higher-end restaurants simply forget to make the food taste good. They focus so much on what it's going to look like that they forget that the most important thing is to make it taste good. I felt like at Sergio Herman's Pure-C, they never ever forgot that. It's something I always keep in mind.
Calamari Fritti
My father and I opened Viaggio when I was 26 years old. I wanted to you give New Jersey the food they like because I wanted to be busy, but I also wanted to give them the type of food that I was eating when in Italy. I spent some time in Positano where I made friends with three, young Italian chefs, and we had a conversation, as chefs do, about different preparations. One of the things we talked about at length was the different ways we served fried calamari. We, in America, have a traditional version with marinara sauce, which my friends had a hard time wrapping their head around. In Italy, especially on the Amalfi Coast, they use ingredients that are super local, like lemons which are everywhere, literally in the streets, and dried chilies which you can find hanging in so many shops. I remembered that conversation with those chefs when we were creating the menu at Viaggio, and I thought to make calamari like they do in Positano. In Italy, they also know how to put the right amount of acidity, so we do some pickled shallots as well. Our dish is the best calamari we can procure, soaked in buttermilk, dusted and lightly fried, served with lemon butter, Calabrian chilies with a little bit of the oil and then the pickled shallots with a little bit of that juice. It's so good.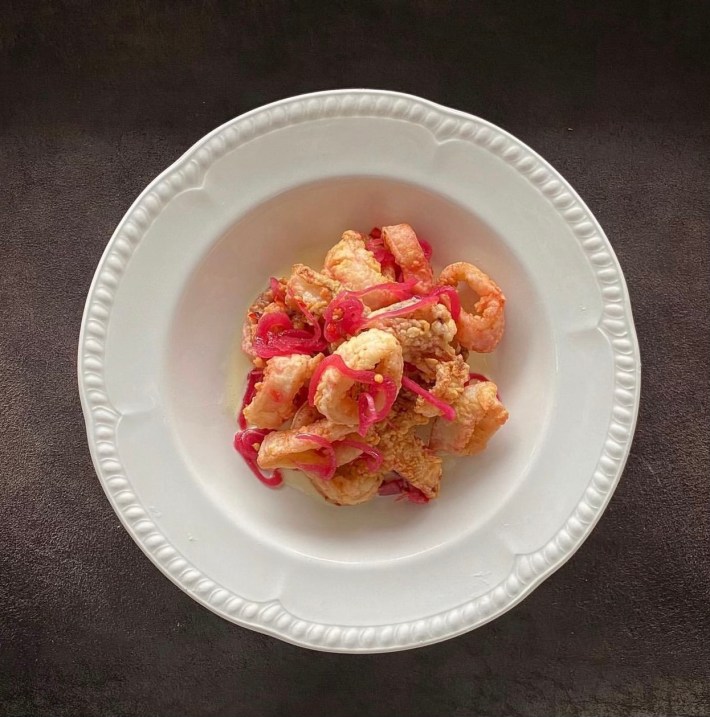 Dry Aged Japanese A-5 Wagyu Beef
We started pastaRAMEN during the pandemic as an omakase dining experience in a speakeasy vibe, invite only, ten courses, where we marry Japanese and Italian cuisine and culture. One of our hit dishes, that I'm seeing on a lot of menus these days, was an A-5 Wagyu, which is a really high end cut that we dry age for around 60 days. It's already the world's most tender cut of meat, so that A-5 Wagyu is going to melt in your mouth like butter. We're not trying to get to make it any more tender from dry aging. We're trying to get that funky flavor. I always tell people if you've never had a real dry aged piece of meat before, it should taste almost as if it's soaked in cream and then on the finish you'll get a Gorgonzola dolce flavor. I'm absolutely addicted to the smell and the flavor of dry aged meat. We do a bunch of dry aging for Viaggio and Osteria Crescendo, but I wanted to try something that would be a real showstopper at pastaRAMEN. At the time no one else was really doing it, and during the pandemic we needed some excitement in our lives. So, we took a A-5 strip and dry aged it for a minimum of 60 days. Then we rub it with dry porcinis we bring in from Italy that we combine with other stuff, like Juniper berries, chili flakes, black pepper, and salt. We rub that on the outside of the meat and then sear it. We really pushed Italian cuisine to take such a highly-regarded cut and then rubbing it with the porcini mushrooms mixture to get that umami flavor. We're always kind of changing up the set that it goes with, but it almost always goes with an Aceto Balsamico coming in from Modena. The aceto works so well because the steak is so fatty and rich, it has that Gorgonzola dolce, that funky flavor that we're going for, and the Aceto Balsamico just breaks through it. So we're literally taking the world's best Japanese steak and rubbing it with Italian flavors, and then serving it with one of Italy's best products in the aceto. As said, I wanted a showstopper at pastaRAMEN, and that's what we have in the Japanese A-5 Wagyu.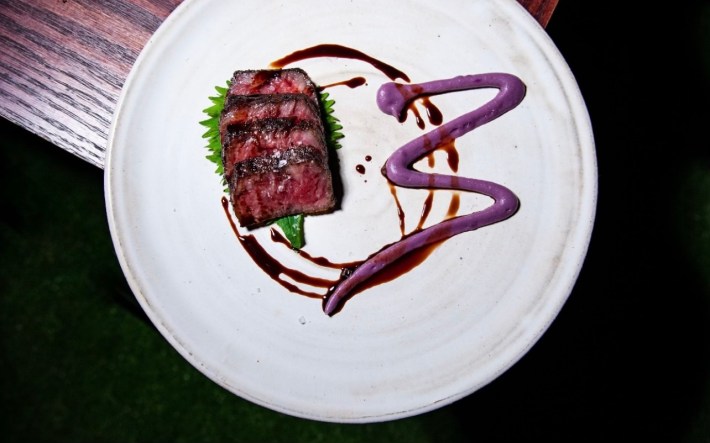 Stay in touch
Sign up for our free newsletter