Recipes
The Wonders of a Wedge Salad According to Max Tucci
The author of "The Delmonico Way!" shares a story about his grandfather's culinary invention and his favorite contemporary recipe from NYC's La Goulue.
10:00 AM EDT on August 3, 2023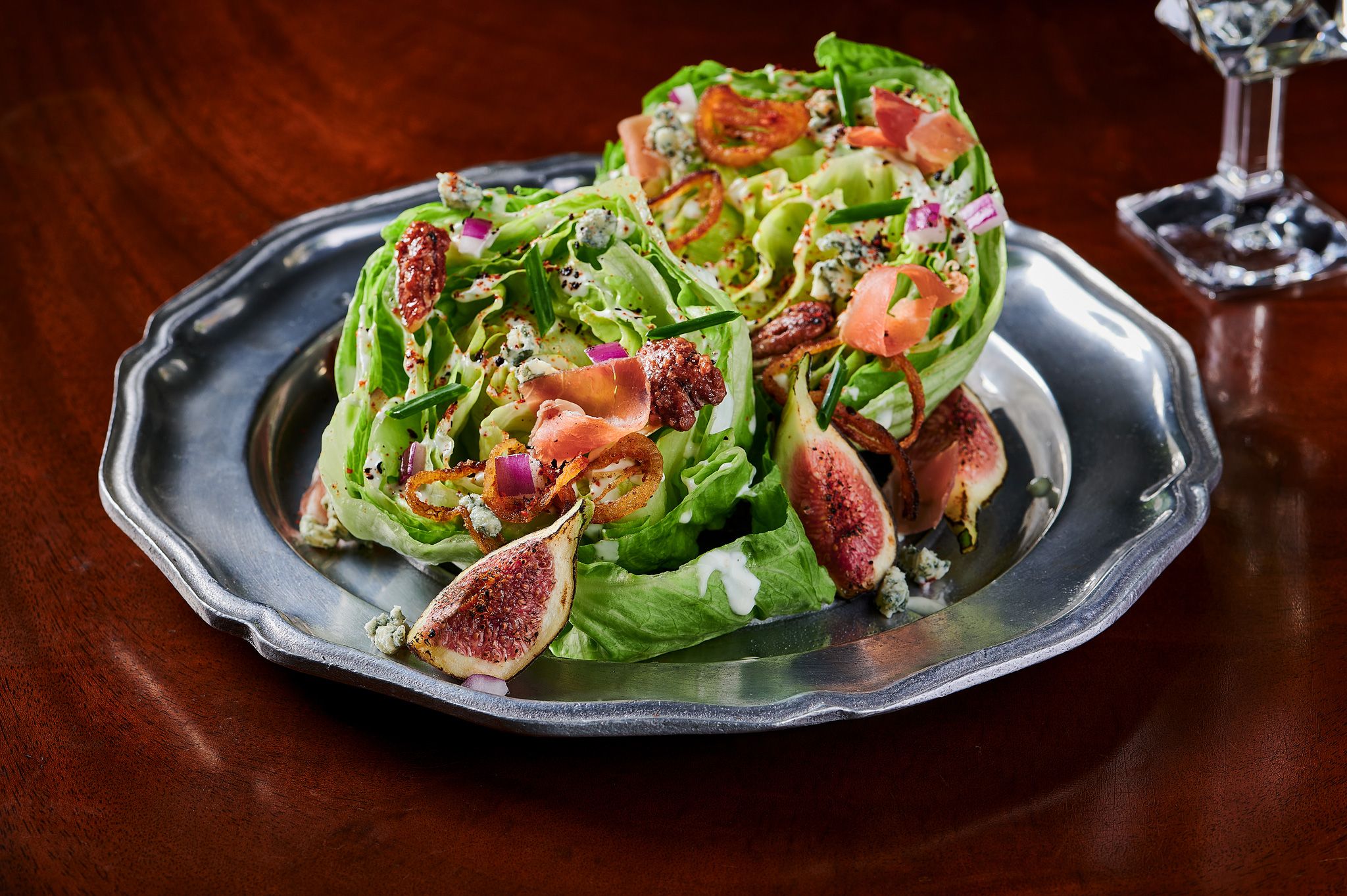 Delmonico's Restaurant in New York is famous for the legendary Wedge Salad. It was my nonno Oscar, who created the Wedge Salad in the 1930s right at Delmonico's. Today the Wedge Salad is one of the most celebrated salads in the world, it is on almost every menu, from diners to fine dine establishments. From New York to Paris. Dubai to Sydney - the Wedge Salad is everywhere, and I am constantly on the search for discovering a sublime wedge salad; and I make it known. How cool is it to be able to say, "My grandfather created the wedge salad!" More often than not people look at me baffled when I make that statement. Servers especially, but the thing I know for sure, is that when you learn, teach.
In my quest of discovering the best wedge, I have experienced one so delicious that it simply stands above the rest. It is served at one of my favorite restaurants in New York: La Goulue (and now also in Palm Beach). From the moment I saw succulent figs perfectly placed on crisp lettuce, I was in love. And no tomatoes. I was elated. I am not the biggest fan of tomatoes served in America, which opens the gate to the battle of American tomatoes vs. Italian tomatoes. There is just something magical about the flavor of Italian tomatoes that I just don't taste in American tomatoes* (side note at the end of this story.)
From the moment that I had the wedge salad at La Goulue, I desperately wanted to share it in my cookbook, The Delmonico Way: Sublime Entertaining & Legendary Recipes from the Restaurant that Made New York!, I placed a call to Chef Antoine Camin of La Goulue and expressed my love of his version of my grandfather's creation. I asked if he would be so kind as to give me the recipe. Chef graciously shared his recipe for the book. Chef Camin replaces bacon with Serrano ham and tomatoes with figs; for me, this makes it an instant classic and a recipe I am thrilled to share with readers of Appetito.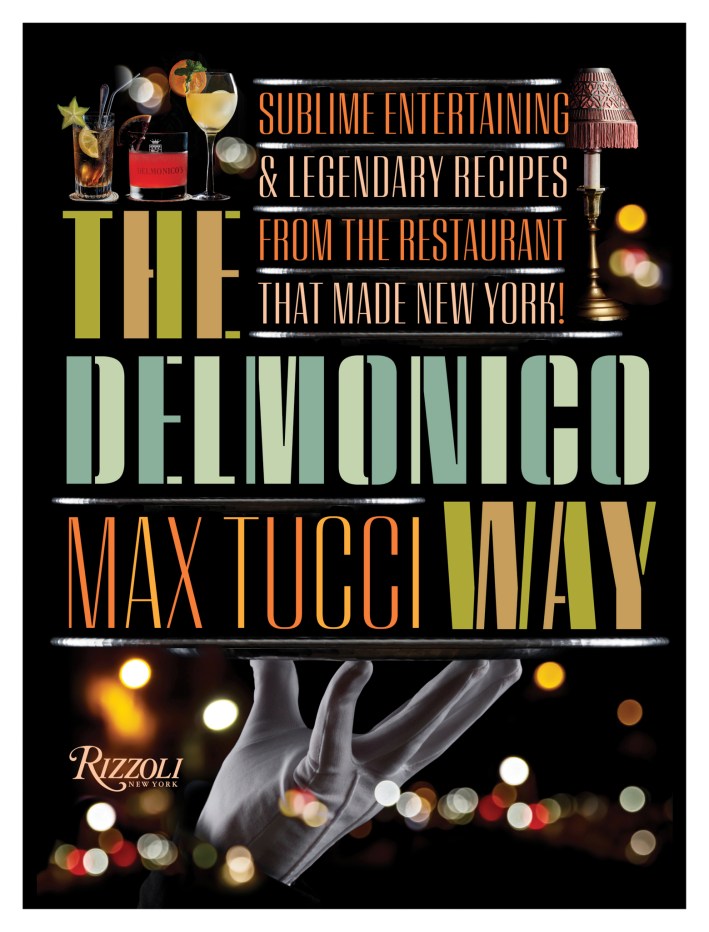 But before we get to the recipe, I must remind you that Oscar's original version of a wedge salad consisted of iceberg lettuce, thickly-cut tomatoes, and crispy bacon served with blue cheese dressing. This was no long-planned dish for Oscar: Lettuce and tomatoes were simply the ingredients available one day when he drove to a local farm to buy produce. Oscar was constantly inspired by farmer markets and farmers. He understood a hashtag we don't use enough of today, #NoFarmsNoFood.
Oscar frequented markets and farms in Brooklyn, Staten Island, and Bridgeport, Connecticut, daily. He was famously known for arriving at farms and markets every morning by five a.m. to buy fresh produce, fish, and meat, just like Lorenzo Delmonico had done back in the 19th century. Lorenzo Delmonico was the proprietor of Delmonico's before Oscar, not only did Lorenzo own Delmonico's, he also owned his own farm, which supplied many of the ingredients used at Delmonico's during his ownership. Oscar may not have owned a farm, but one thing Oscar had that Lorenzo didn't, was a refrigerated Ford. In the 1950s, Oscar had custom-built refrigeration in his Ford Courier and eventually in a fleet of other vehicles so that all the meats and produce he purchased maintained optimal freshness, yet another sign of how Oscar always kept his customers' satisfaction in mind.
After Oscar's passing, his son, my father, Mario, continued the tradition of shopping for food at local farms and farmer's markets. Today, I follow my ancestor's footsteps, honoring farmers and farms so much so that I recently purchased a 12-acre antique dairy farm an hour north of Manhattan, appropriately naming it "Delmonico Farm." My dream for the farm is that one day Delmonico Farm will be thriving, providing produce for the new Delmonico's. Until I can find the perfect farmer to help me with the land and farming (send your resume to maxtucci@theoriginaldelmonicos.com), I plan on hosting wonderful dinners and events in the grand, 6,000 square foot barn. I am also working on making Delmonico Farm the country catering facility for Delmonico's Restaurant. 
Now back to the wedge…If you read The Delmonico Way, you would know that the Wedge Salad was introduced on Delmonico's menus in the 1930s as Hearts of Lettuce Salad and maintained its popularity through the wartime food shortages of the 1940s. By 1955, it was renamed "Oscar's Wedge." The salad was a Delmonico's mainstay and will be featured on the Delmonico menu when the restaurant opens on September 15th of this year.
Finding a Wedge Salad the way both Oscar and Mario served it is no easy task. Just as Oscar taught Mario and I teach through The Delmonico Way cookbook, "Always serve the wedge on a chilled plate." Oscar was adamant about serving his wedge salad on chilled plates. He even went as far as chilling the forks and knives. Another of Oscar's touches was that he made sure that a serrated knife was placed with the salad, so that customers could easily cut the salad up. This is where I am able to say: Be more like Oscar and do everything with intention and take it one step further - The Delmonico Way!
I am delighted and look forward to welcoming you to dine at Delmonico's. Reservations are being accepted via www.theoriginaldelmonicos.com 
*I would love to know where your favorite tomatoes are in The States. Tomatoes with so much flavor that you eat them like I do in Italy, right off the vine! Let the taste test begin!
Stay in touch
Sign up for our free newsletter