Features
The Appetito Q&A: Katarina Petonito of Washington DC's La Collina
10:41 AM EDT on May 24, 2023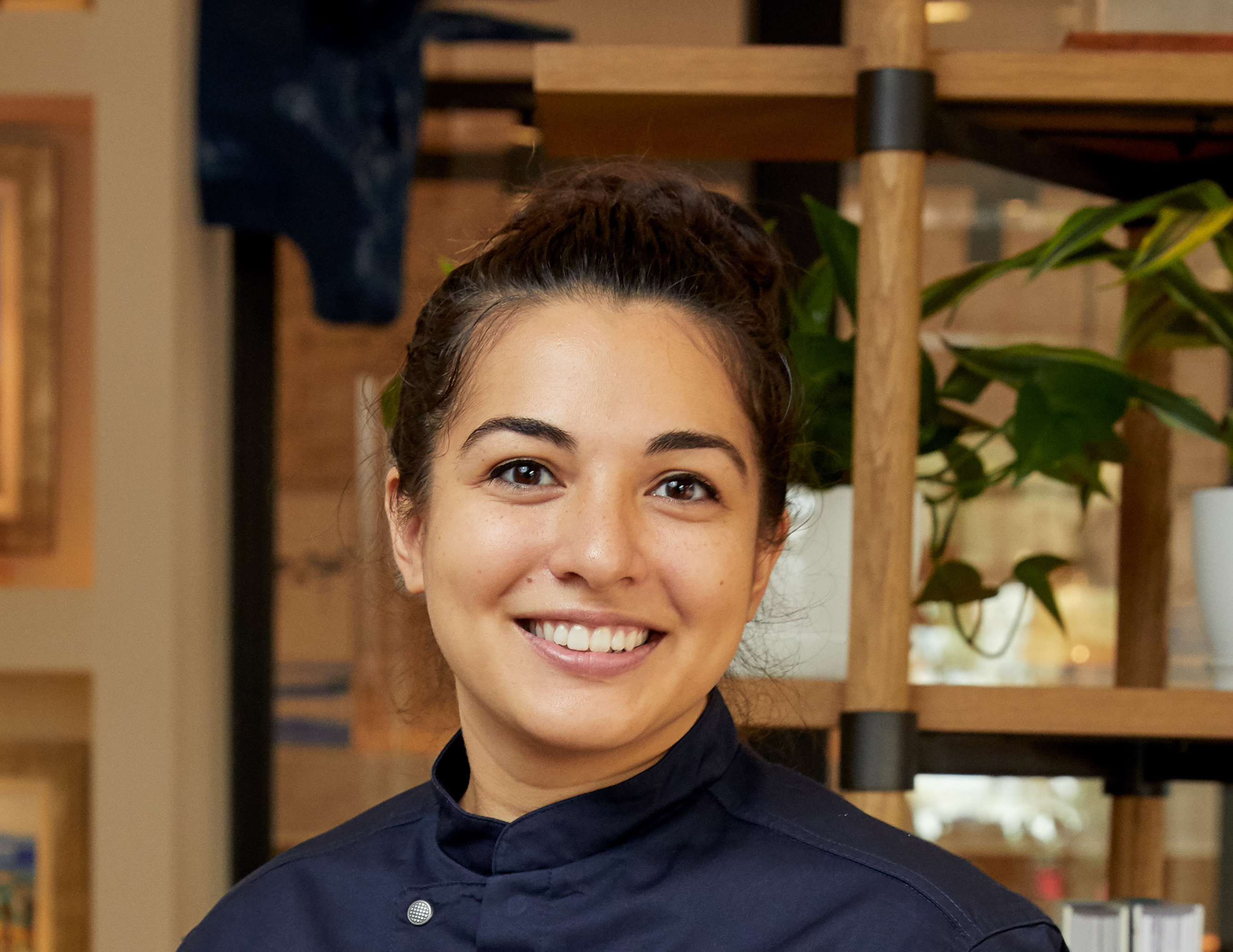 A young chef who worked her way up through some of the capital's best restaurants oversees the menu at Italian La Collina, as well as The Duck & The Peach, and The Wells. But that's just the beginning of Katarina Petonito's inspiring story.
In 2021, Katarina Petonito took a giant career leap forward. A serious up-and-comer chef in the booming Washington DC restaurant scene, she'd worked for now-disgraced restaurateur Mike Isabella's group for six-plus years and had recently cooked at Union Market hot spot St. Anselm. Then, Hollis Silverman came calling.
Silverman, the former Chief Operating Officer of José Andrés's ThinkFoodGroup, had formed the Eastern Point Collective, and she offered Petonito the opportunity to become executive chef of the group's ambitious three-headed monster of an operation under one roof on Capitol Hill, which includes new American restaurant The Duck & The Peach, gin-focused cocktail bar The Wells, and La Collina, an "Italian-ish" spot with an impressive variety of Italian dishes on the menu.
For Petonito, raised by a Filipino mother and Italian-American father who both had backgrounds in food, the chance to tackle a variety of cuisines from one bustling kitchen was too good to pass up. It helped that Silverman's collective is a women-led operation on a mission to create a welcoming and supportive work environment in the hospitality industry, among the topics which Petonito discusses in this wide-ranging Appetito interview, The conversation has been edited and condensed for clarity. 
[Note: Appetito may earn commissions from products featured in links to this story]
Hi Kat, let's first talk about what you ate growing up in a household with parents of Filipino and Italian heritage. 
Food has always been a love language of my family. In the Filipino culture, if you're having a bad day, someone brings you food. In Italian culture, if you're having a bad day or having a good day, someone brings you food. [Laughs.] I was privileged enough to have parents with culinary backgrounds. My father was a line cook when he was, I guess, in his 20s. He likes to boast about it all the time. And then my mother was a pastry chef who owned her own bakery. She also started a catering company when I was younger and then sold it. Growing up with those two different cultures, it's actually really funny. You see that all food starts the same. So onions and garlic, seasonings, tomatoes—it's pretty incredible to see how similar the cuisines are [despite] being so far away from each other.
Did you eat more Filipino or Italian at home?
It was definitely more towards the Filipino side. My mom did the majority of the cooking, but she always dabbled in Italian food and other cuisines. And then I had all of my aunts from my Italian side who would bring over lasagna and ziti and garlic bread and all of that stuff. So it was a good mix.
OK, turning to your current role, when you took the job as executive chef in spring 2021, did you have any input into the types of food you'd be making or the restaurant concepts?
No, These concepts were already thought through with Hollis. So I came on board three months after she really had the ball moving.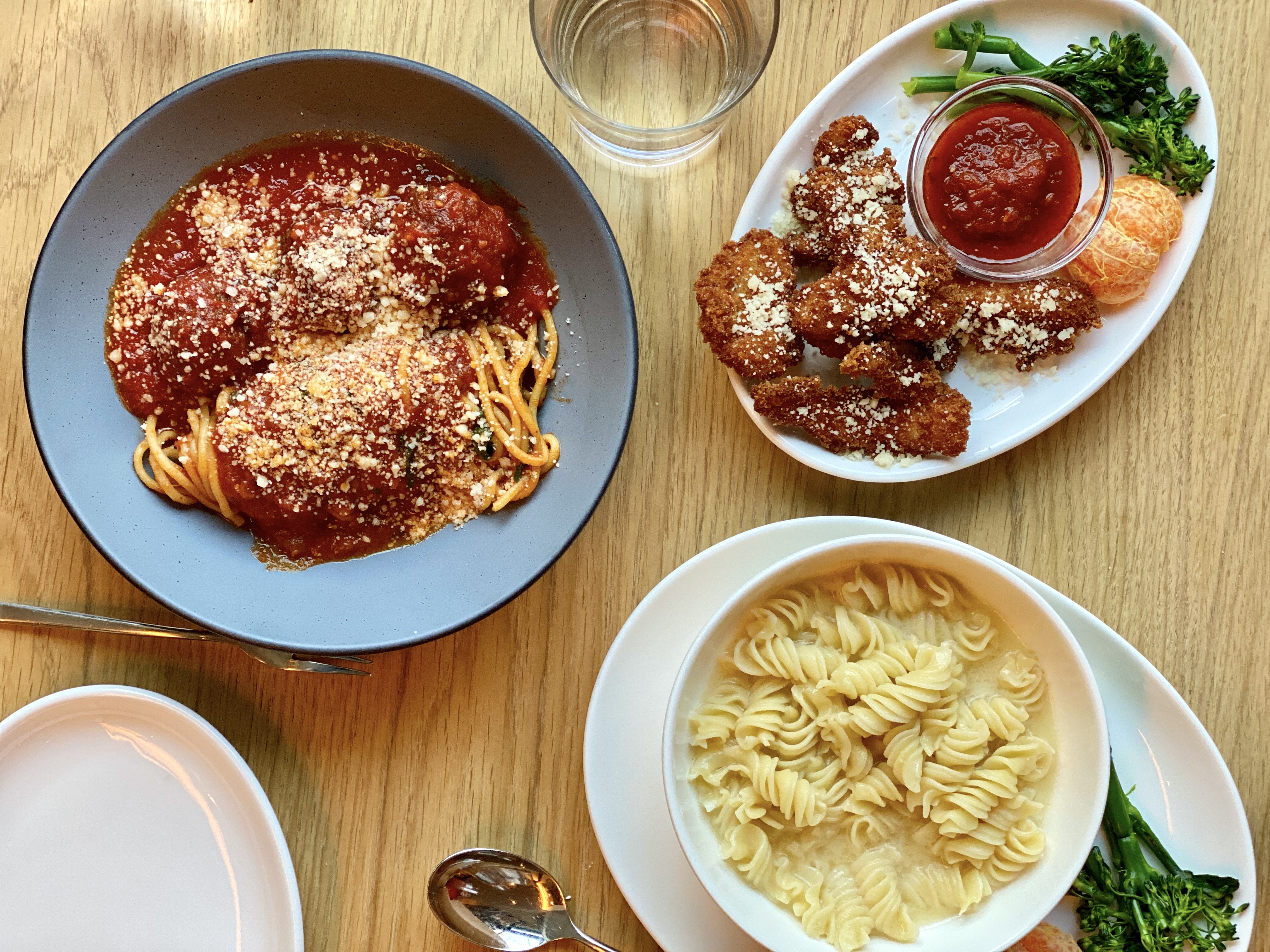 Did it appeal to you that La Collina was going to be a big part of it?
Gosh, yeah, that was the part that really got me. I'm passionate about being able to draw on my Italian roots and to play around with Italian food and [Hollis] is not putting me in a box, because we call it "Italian(ish)." We have the traditional dishes that everybody knows and loves and I get to play around and kind of tweak them and make them my own. That was a selling point for me.
It does look like a fun menu, with classic pasta dishes such as cacio e pepe and Bolognese, and then seasonal items, in addition to appetizers and mains. Are you making all the pasta in-house?
Yeah, we have an extruder and then we also make our fresh egg dough in-house.
I also noticed that there's a fun kids menu with items like chicken parmies—an Italian-American spin on nuggets. 
Yeah. Hollis has two kids and she's very present in the community. I also have a little one on the way [editor's note: Kat was eight months pregnant with her first child when we spoke and is due in June]. We want to make sure that the people in our community have a place to go where they feel comfortable bringing their kids, and where their kids would have choices. In the city, you don't really get to go to a nice restaurant with good food and your kids have choices. It's like, "we have butter noodles," or, you go to a family restaurant that's a chain and you're not really going to get any fresh or high quality food.
That's so true. When my wife and I would try to bring our kids to nice restaurants in NYC when they were younger, it was usually a struggle.
Exactly. Like there's really not really many options because to most chefs, kids are a second thought. They're not the people bringing in the money. They're just little nuisances. For us, they're very much part of our community, and catering to parents is really important to us.
Right. Let's talk about your progression as a chef. Before your current role, you were at St. Anselm. What was that like?
That's where I learned that working with farmers matters. Because they're always able to bring in different products, and you can taste them side by side. The flavors between one farm and the other farm are so distinct and so different. So I've been able to bring that knowledge about sourcing over to La Collina and The Duck and The Peach, and I feel like it really elevates what we're doing. For example, you can make a Bolognese with commodity lamb product, and it would taste different even if you followed our recipe step by step, because the lamb that we're getting is meticulously cared for and of such a high quality. It has the right fat content and  the way it's blended, it just tastes so different. 
What about going back further, when you worked for Mike Isabella Concepts?
I actually worked for Mike Isabella Concepts for about eight years. I worked at their flagship restaurant, Graffiato, which was Italian. Back in 2012, I believe, is when I started there. It's actually where I met my husband.
Wow, so you must have been pretty young when you started?
Yeah, I think I had just turned 20, fresh out of culinary school, starry eyed and ready to go. I learned a lot of Italian cuisine working there working with [chefs] Marjorie [Meek-Bradley] and Elliot [Drew]. They taught me so much about Italian food and flours and everything. Then, Elliot took me to open [Isabella Concepts'] tasting room, which we did for a couple of years, and that's where I got even more depth of knowledge in Italian food. We were changing the menu every two or three days and making different shapes of pasta and working with extruders. After that, I got roped into opening all of the Greek restaurants, and Greek food became one of my loves—Mediterranean food in general. And then I stayed on board and opened all of their Greek concepts for about six years after that.
[Editor's note: Petonito rose to chef de cuisine at Isabella's Greek restaurant Kapnos Kouzina in Bethesda. In 2018, Isabella was sued for sexual harassment, and his restaurant empire disintegrated, as detailed in this thorough Washingtonian article from November 2018.]
What appeals to you so much about Mediterranean food?
How fresh it is. It's fresh and simple and it just lets the ingredients speak for themselves. There's not a lot of manipulation. You're not hiding anything. 
I saw on social media that you're using seasonal ingredients on the La Collina menu, with things like a ramp agnolotti. That can be challenging in a restaurant kitchen, right?
I mean, that's definitely a challenge. Our seasons are so short. This year, we're very lucky and ramp season is just like going crazy right now. But I mean, that's kind of my favorite part of the job, that challenge of being able to be like, "Okay, this is coming into season."
Let's talk about the culture that's a key part of Eastern Point Collective. There is a lot of messaging about improving the hospitality business on the website, and your restaurants have a 22% service charge added. What can you tell us about that?
We've changed our model a couple of times, but we've always stuck with the 22% service charge. The only thing that we've ever changed is just the way that that service charge  is distributed amongst our staff. Now we use it more as a commission base. And it seems to be really taking off lately. It seems like in DC, more people are being more open-minded towards it, which is really great because when we first started, [prospective staff] were like, "No way we're working for a service charge." Now everybody sees it as a more sustainable way to get paid. 
What about the type of environment you're trying to create with a women-led workplace and how does it contrast with some of the places you've worked in the past?
It's day and night working with women rather than working with men. Here, I don't feel like anybody's ever out to get me. Like versus when I was working in [Mike Isabelli Concepts] or various other places—it always felt like someone was trying to pull the rug under me or trying to shortchange me because I was a woman or trying to harass me. Here, it feels safe. It feels really good. It's changed my life dramatically. It's pretty crazy.
That's amazing. Have you met other women in the industry who have similar environments that they can work in now and have you kind of compared notes at all?
I do know a lot of women in our industry, but there aren't many women owners like Hollis. There's not many people out there that are willing to take a risk to change our industry. And so I haven't found many people that have that kind of environment that I have the privilege of having.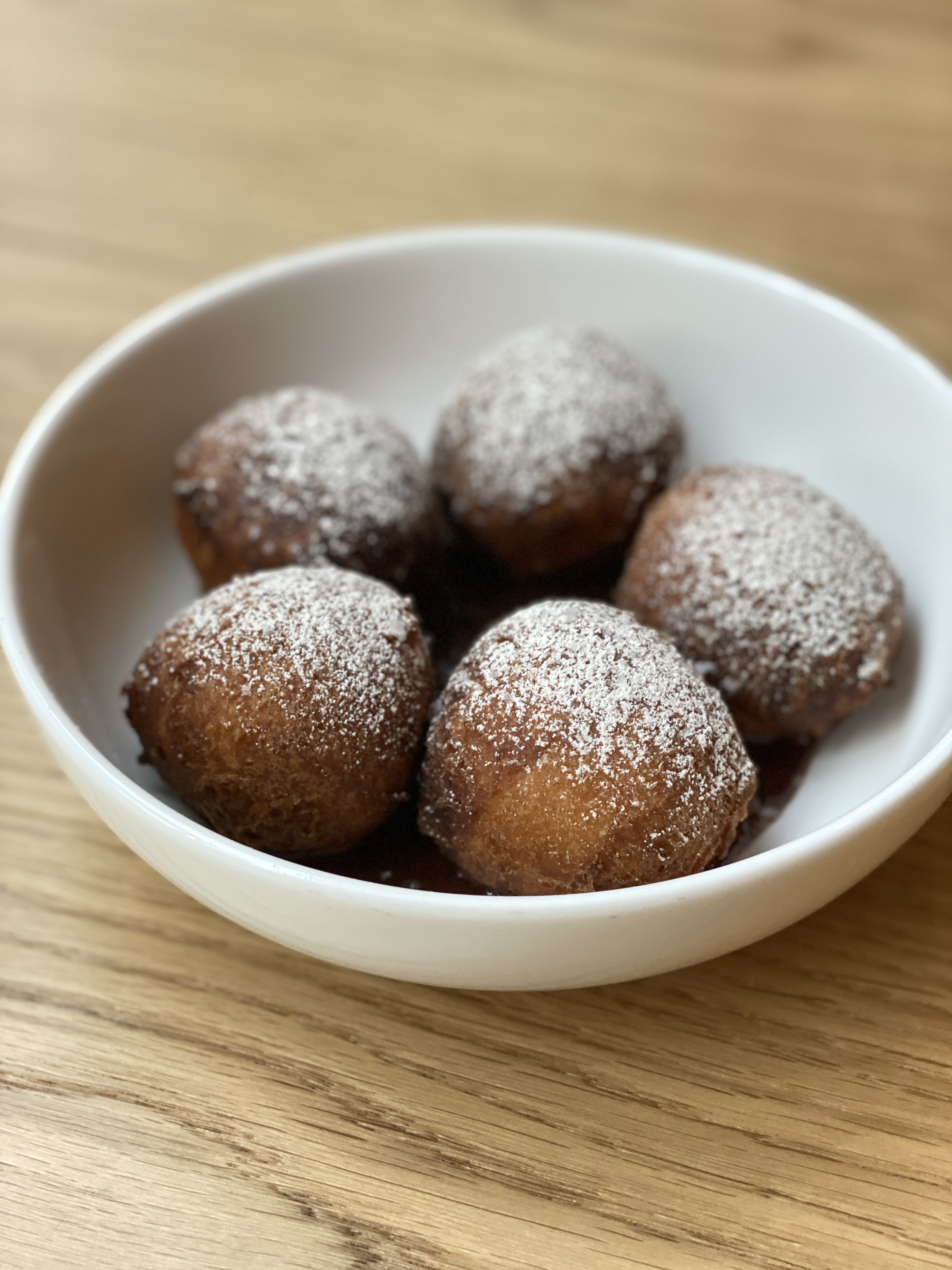 I just want to close out with a couple of quick questions about Italian food. First, what are some things about Italian food that you've learned working as a chef in Italian restaurants?
I've learned an insane amount. As a young chef, I would have never even thought of how different Pecorinos that come from different regions taste completely different. 
Any new dishes you're working on for La Collina?
One dish that I'm working on and trying to put on the menu is a porchetta. We're working with D'Artagnan—they have a special milk-fed pork line. It is insanely delicious. It just melts in your mouth. And we're working on putting that on a rotisserie and cooking it until it's crispy and tender.
How do you think you will use it? As a sandwich or as a main?
We're thinking as a main with broccoli rabe or just pickled vegetables and Dijon mustard, just to make the porchetta shine on its own. But I'm kinda leaning towards the broccoli rabe saturated with shallots and garlic and red chili flakes and finished with lemon so that lemon in bitterness cuts through the fat of the porchetta. I think it would work insanely well. 
Lastly, at La Collina,  have you gotten a seal of approval from your father?
My father is my biggest fan girl when it comes to my food. He's been a handful of times to La Collina and every time, he's like, "You gotta roll me out of here, kid." Definitely have the seal of approval from him.

Richard is the co-founder, managing editor and publisher of Appetito. He is also co-author of the new books Preserved: Condiments and Preserved: Fruit, former U.S. editor of La Cucina Italiana, and he was editor-in-chief of the website Food Republic and the magazines Manhattan, Miami, and Complex.
Read More:
Stay in touch
Sign up for our free newsletter