Features
Chianti Talk with Roberto Stucchi Prinetti of Badia a Coltibuono
The winemaker and co-owner of one of Chianti Classico's most famed estates, Badia a Coltibuono, shares his thoughts on the state of Italy's beloved Tuscan wine region.
9:00 AM EDT on October 5, 2023
Roberto Stucchi Prinetti is a pioneer among the new generation of winemakers who have built on a family legacy while creating wines better suited to contemporary tastes. His work at Badia a Coltibuono in Chianti Classico includes converting the family estate to organic farming and achieving certification—now 20 years ago. A remarkable feat, given that the estate is on land where archaeological evidence has determined that winemaking has taken place for over 1,000 years!
Soft-spoken and thoughtful, and passionate about his wines and the wines of Chianti Classico, Stucchi Prinetti has also emerged as a thought leader in the Italian wine industry. He is president of the Biodistretto del Chianti, part of a European network devoted to organic farms, and he continues to explore the use of indigenous Italian grapes in Badia e Coltibuono's signature wines. Case in point: the stunning Montebello Toscana 2018, a blend of the ancient varietals Mammolo, Ciliegiolo, Pugnitello, Colorino, Sanforte, Malvasia Nera, Canaiolo, and Foglia Tonda.
I met Stucchi Prinetti for lunch at Union Square Café during his most recent visit, tasting through Badia a Coltibuono's 2020 vintage Chianti Classico, as well as the Montebello Toscana, the 2018 and 2019 Chianti Classico Riserva, and a lively vin santo. I found them all to be elegant and complex wines, and was later surprised to learn how affordable they are as well.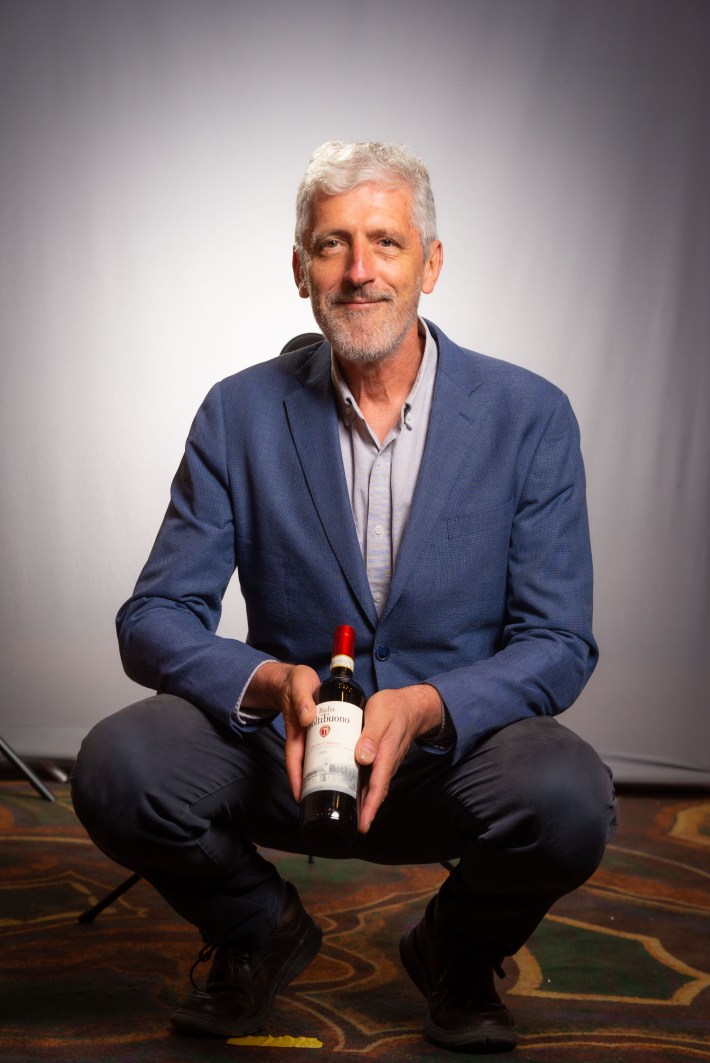 Here, in this interview, which has been condensed and edited for clarity, Stucchi Prinetti discusses Badia a Coltibuono's wines, his inspiration to convert to organic farming, and his thoughts on Chianti Classico.
Let's talk about Chianti.
OK. I like to say that Chianti is one of the most well-known but most misunderstood wine appellations. It's almost like there's a Chianti for any style of red wine that you like. There's a lot of range. 
How so?

Well you have the more international style—take Antinori as an example—but you also have more traditional, less extracted style. Plus, the use of different varietals. Now the most recent trend is to use 100 percent Sangiovese. But of course in the past, you had many producers really going international, with Bordeaux varietals. 
What about at Badia a Coltibuono?
We've always maintained a more classic style. So this bottle (he holds up the Chianti Classico) is a good example, with 90% Sangiovese and indigenous grapes like Canaiolo, Colorino, and Ciliegiolo. In the 1980s, when I started replanting the vineyards that needed to be replanted at a higher density, I didn't just maintain some of the indigenous varietals, I also propagated a very wide massale selection (cuttings from older vines) of Sangiovese based on 600 vines to maintain more genetic diversity from the old vineyards rather than planting newer clones. Now we do have some vineyards planted with clones but about 60% are planted with our massale selection. This is significant is because there's more variability in the maturation, which helps to keep the wines fresh in today's very hot climate.
Your father Piero ran the winery before you. What was his approach?
My father was running it as a second job, so to speak. So there was always a manager there. [My father] would be there on the weekends or during the summer a bit more. He wasn't particularly into wine and wine culture but he had good ideas in marketing and he was quite progressive in a lot of ways. He was happy when I came in with a wine education.
Yes, you studied in Milan and then at UC Davis. Is that where you became interested in organic farming?
I learned a lot about organic farming in California, but not from the school, and definitely not from wine producers. 
So you learned from farmers?
Yes. For example, in Davis, the only real pocket of organic was the student farm, which was managed organically. I also learned from farms around the Bay Area. After returning to Italy to work at Badia a Coltibuono, we were selling wines to places like Chez Panisse and Oliveto. When I started going back to the States, through restaurants we were serving in the Bay Area, I was going to visit farmers and learning about organic farming. Because I'd studied there, I had good contacts. Obviously it was happening in Italy too, but I learned a lot there.

By your estimation at that time, in the 1980s, how much wine from Chianti was being produced organically? 
Very little. We were among the first sizable growers who converted to organic. By the mid-'90s, we were farming organically, and by 2000 we were certified. There was a very small group of very small producers who had started in the '80s, but we're talking about very small producers. In California, there was only Frey Vineyards and maybe a few others. In 1985, I started by eliminating herbicides and insecticides, but then it took a decade to go to a full organic program, avoiding synthetic fungicides and using small amounts of copper and sulfur.
What inspired you to do that?
My first exposure to organic was a full immersion in a biodynamic farm while I was studying agriculture in Milano (without knowing what I was getting into). The farming part I really and it opened my mind. I never got into the spiritual side of Steiner, but the idea of biodiversity, the idea of interactions between plants and microorganisms in the soil, compost…. Before studying wine, I was looking at growing medicinal herbs, so all the elements made sense.
Was it a hard process to convert the vineyards?
The main difficulty was overcoming the miseducation. Soil science in those years in Davis based on the old thinking: ideally, you exterminate anything alive in the soil so that then you can farm and you don't have nematodes interfering, or funguses. The idea of beneficial microorganisms was considered fringe. The  mainstream was very much inorganic and there was a lot of use of chemicals.
What do you think was the effect on the wines themselves? What happens when you go back into the library and taste the older vintages?
It's very hard to pinpoint the changes because so many other things have changed in terms of climate. We used to harvest late in October, alcohol levels were barely 12 1/2 percent naturally in Chianti. And now, at the end of September, if you're not careful, you're past 15%—a month earlier. Of course, the profile of the wines changed for many other reasons. But still, I would say that over time, you get healthier soil, your vines are able to sustain a higher yield of grapes, and there's more complexity, texture, a little bit more vibrancy in the wines. It's a gradual process, but just like with food, I think things taste better. They're more alive.
Let's discuss the evolution of Chianti wines. Why do you think they're misunderstood, for instance? Is it the different classifications?
There is a major anomaly in Tuscany. You have Chianti made in Chianti, which is Chianti Classico, and Chianti made outside of Chianti, which are all the other Chiantis. Some of them are great. I mean, like producers in [Chianti] Rufina, of course, have their own identity, and make wonderful wines. And there are also very good wines in other parts of Chianti—generally a little bit more entry level, but there's very good ones. Technically it wouldn't be Chianti, but it's been grandfathered in. This coming year will be the 100th anniversary of the foundation of the Consorzio dei Chianti Classico. In the 1920s, it was established to protect the name of Chianti, which was produced all over Tuscany. Now there's Chianti and Chianti Classico. Now I think for anybody who likes Italian wines, Chianti Classico is generally accepted to be the real thing, but still, there's three times as much Chianti produced and that's part of the bigger picture.
What else can you tell us about Chianti Classico?
Chianti Classico itself is quite complex. It's a large and very diverse territory. There are 7,000 hectares of classified vineyards, basically 30 million bottles of Chianti Classico, with quite a range of everything from entry-level wines to large bottlers to very high-end [wines]. There are 300 wineries that bottle Chianti Classico. And it's mostly Sangiovese, but then you also have the nuances, so you have the indigenous varietals, the international varietals, and the Sangiovese 100%, which wasn't traditional but now it's allowed.
Anything else an American audience should know about Chianti Classico?
Well, sometimes you have to explain that it's Sangiovese, but not only Sangiovese. And since Sangiovese is so expressive, I think in Chianti you have the more food-friendly, drinkable, vibrant expression. The wines have acidity, tannins, and some fruit. It's a little bit more nuanced, which compliments food in a very nice way.
Besides its rich history of producing wines, Badia a Coltibuono also has a restaurant and lodging. What can you tell us about that? 
It's an agriturismo with a very active restaurant, the cooking school, and daily wine tastings for the many day visitors. It's almost like a hotel or bed and breakfast with rooms and apartments that you can rent. The hospitality program started with a cooking course that my mother used to teach and that is still going very strong today. She was a well-known food writer who is quite well known, Lorenza de Medici di Ottajano. She used her maiden name for the books, though she was not from the Tuscan de Medici, but from the Neapolitian branch of the family. She always wrote cookbooks and in the early '80s she started this cooking course at Coltibuono, then started publishing books in the States. She had a series on PBS back in the late '80s called The de'Medici Kitchen (and a book of the same name]. She ran the cooking school program on the property until the mid-'90s and it's run by different chefs now.
Appetito may earn commissions from products featured in links to this story.

Richard is the co-founder, managing editor and publisher of Appetito. He is also co-author of the new books Preserved: Condiments and Preserved: Fruit, former U.S. editor of La Cucina Italiana, and he was editor-in-chief of the website Food Republic and the magazines Manhattan, Miami, and Complex.
Read More:
Stay in touch
Sign up for our free newsletter