Features
Is Philip Guardione NYC's Most Underrated Chef-Restaurateur?
The owner of the successful Piccola Cucina Group restaurants has turned his Sicilian work ethic into a growing empire.
9:00 AM EDT on July 26, 2023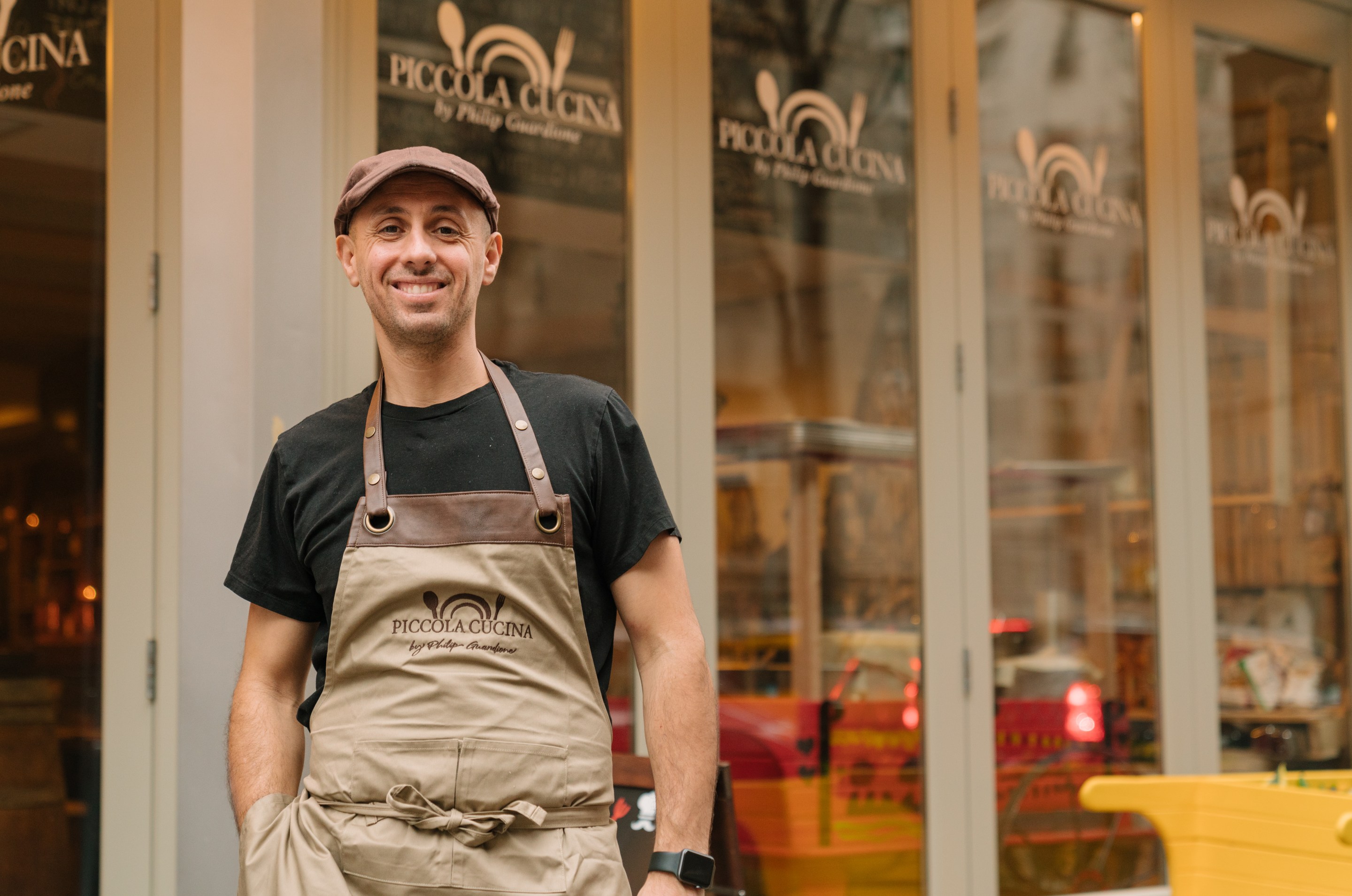 It's a warm summer weeknight in Manhattan's SoHo. Young couples and groups of friends are sharing plates of fritto misto and drinking crisp Italian white wine at Piccola Cucina Estiatorio, one of Philip Guardione's three New York City restaurants. Around the corner at his Piccola Cucina Osteria, diners order pasta in a romantic indoor space, while others occupy a festively decorated outdoor dining shed and an open-air terrace on Spring Street. Meanwhile, at Piccola Cucina Uptown, on 60th St. near Park Avenue, guests start their meals with one of NYC's best appetizers, a thin-crust focaccia di Recco, stuffed with melty stracchino cheese.
All three restaurants represent the life's work of Philip Guardione, born and raised in Catania, Sicily, and trained in kitchens in Switzerland, Paris, and Italy before landing in Manhattan in 2007. With his country-style charm and a hardcore work ethic, he has made Piccola Cucina Group into one of New York City's true restaurant success stories, though he isn't what you'd call a celebrity chef—and he certainly doesn't act like one.
"Every day I cook. Almost every day, I am still in the kitchen," at his restaurants, he says on the second floor of Piccolo Cucina Uptown, a newly opened section of his latest and perhaps most bustling creation. Guardione shows off the space with pride, noting the ceramics and furniture all sourced and imported from Italy. He opens the glass doors to a private dining terrace overlooking Park Avenue. Clearly obsessed with details, Guardione has applied his laser focus to creating light-filled dining rooms and memorable dishes that reflect his native Sicily and other regions of Italy.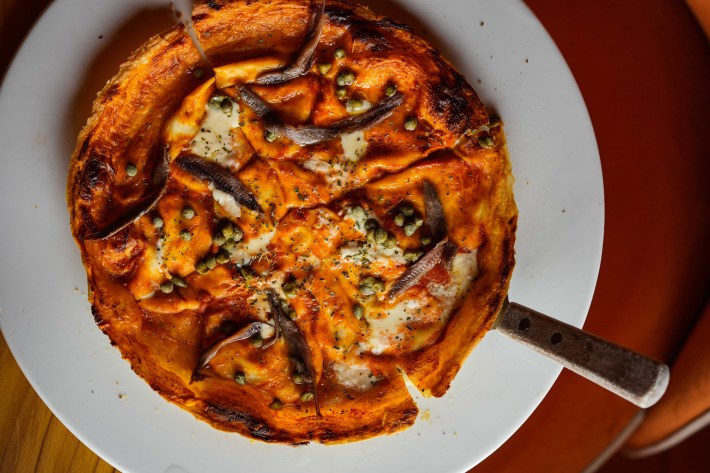 As a reward, his Piccola restaurants are thriving, and yet he receives very little attention from the food-obsessed New York City media community. It could be because of his unostentatious manner, or perhaps because he's busy in the kitchen. But one thing is clear: Guardione is an extremely underrated chef and restaurateur who should be registering higher on the hospitality world's radar.
---
Born in 1981, Guardione spent his youth shuttling between Sicily and Switzerland, where his father worked in hotels. After apprenticing in kitchens as a teenager in both locales, Guardione landed a job at the Four Seasons in Milan, eventually working his way up to a chef's role. He spent five years cooking in Milan—"It was one of the best experiences of my life," he says—then in Paris, before a trip to New York City would change his trajectory.
During a visit in 2007, he was offered a space on Prince Street in SoHo, and the chance to have his own small restaurant in New York City. He jumped at it, only to discover that the landlord hadn't been forthright about the kitchen, which was illegal. The enterprising Guardione says he pivoted to Sicilian-style tapas, serving caponata and swordfish rolls, and he made the space work as an enoteca. 
In 2013, Guardione took an important next step, opening the Osteria around the corner on Spring Street. Having upscale clientele in the heart of Manhattan paid off; and soon, the solo-preneur had offers from partners to open seasonal Piccola offshoots in ritzy destinations. First came Ibiza, in 2014, followed by Red Lodge, Montana, where Piccola Cucina Ox Pasture has become a rare showcase for true Italian cuisine in the heart of Big Sky country.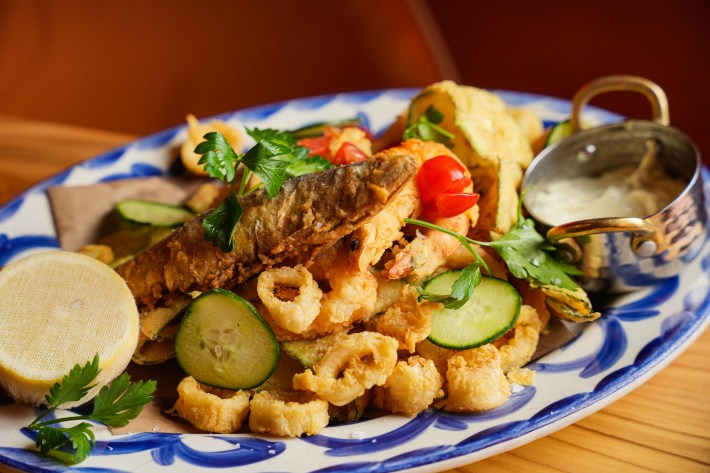 Guardione then returned to his roots, unveiling a new concept in 2017, Estiatorio, that focuses on seafood as you'd find in Sicily or around other Mediterranean centers, such as Greece. There's a lengthy list of crudo as well as cooked and fried fish and seafood specialties, as well as a range of pastas with and without seafood. Maccheroni alla Norma, an eggplant dish that is one of Sicily's signature pasta presentations, is seemingly on every table at Estiatorio.
With a renewed focus on New York, Guardione then set out to take a great leap forward, moving from the downtown confines of western SoHo to the heart of Manhattan at 60th and Park. Piccola Cucina Uptown, he says, represented a bold bet—and with it, much higher rent—on his cooking. Unfortunately, the restaurant opened a week before the pandemic began to shut down dining in New York City in March 2020.
After enduring several years as an upscale takeout joint with makeshift outdoor dining, his bet paid off, as Uptown became his most successful restaurant yet, with a steady stream of customers such as businesspeople in search a high-quality lunch, Italian expats longing for a taste of home, and Upper East Side residents starved for a homey trattoria with great food. 
Guardione marvels at how New York City has accepted him, and how well New Yorkers have adapted to his cooking. "When I first put spaghetti with sea urchin, and fennel with orange, on my menu around 2007, everyone complained," he says. Now, he argues, New Yorkers have more sophisticated palates than Europeans. "Right now, New York is the most important city in the world for quality, gastronomic food."
---
Food is a key element of the dining experience, of course, but hospitality is an often-overlooked aspect. New York City outperforms here, too, with hospitality specialist Danny Meyer showcasing it famously at his Italian restaurants such as Ci Siamo, Maialino, and Marta, and dozens of other restaurateurs practicing the art at beloved neighborhood spots in Brooklyn, Queens, Staten Island, the Bronx, and residential parts of Manhattan.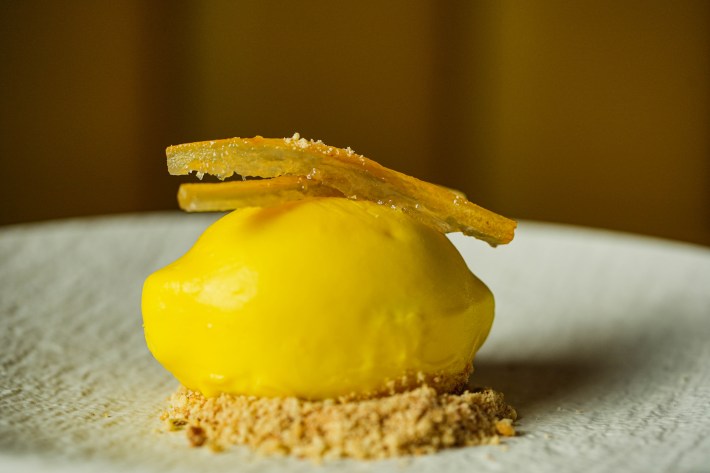 Though you might not know it unless you read the TripAdvisor comments about Guardione's restaurants, he's a master at hospitality too. His management team is entirely made up Sicilians, and waitstaff at all of the Manhattan locations hail from around Italy. Many wear a trademark fedora-like hat like those worn by Guardione—you can spot them amid the decor at his restaurants too—and the staff is knowledgeable about the menu and the thorough Italian wine lists. They also are happy to end your visit with the intricate table-side tiramisu service, layering ladyfingers and mascarpone, and concluding in a flourish with a sprinkle of chocolate powder. 
Discussing hospitality, Guardione nearly chokes up, exclaiming that his team is the best in New York City right now. 
With everything working so well, you have to wonder what's next for him—and whether he intends to slow down. Asked about his hobbies outside the restaurant business, Guardione notes that as an entrepreneur, even while on holiday, he remains engaged on how to continue innovating and growing. 
Though he doesn't have any immediate plans to open another restaurant, he hints that he's looking at major markets outside New York for another Piccola outpost, or maybe he'll introduce a new concept somewhere nearby, like Brooklyn. 
Just talking about next steps seems to make Guardione spring into action, and he disappears down the staircase at Piccola Cucina Uptown, likely back to his kitchen, the refuge for the latest in a long line of Sicilian immigrants to roll the dice on a career in the City that Never Sleeps and come up a winner.

Richard is the co-founder, managing editor and publisher of Appetito. He is also co-author of the new books Preserved: Condiments and Preserved: Fruit, former U.S. editor of La Cucina Italiana, and he was editor-in-chief of the website Food Republic and the magazines Manhattan, Miami, and Complex.
Stay in touch
Sign up for our free newsletter