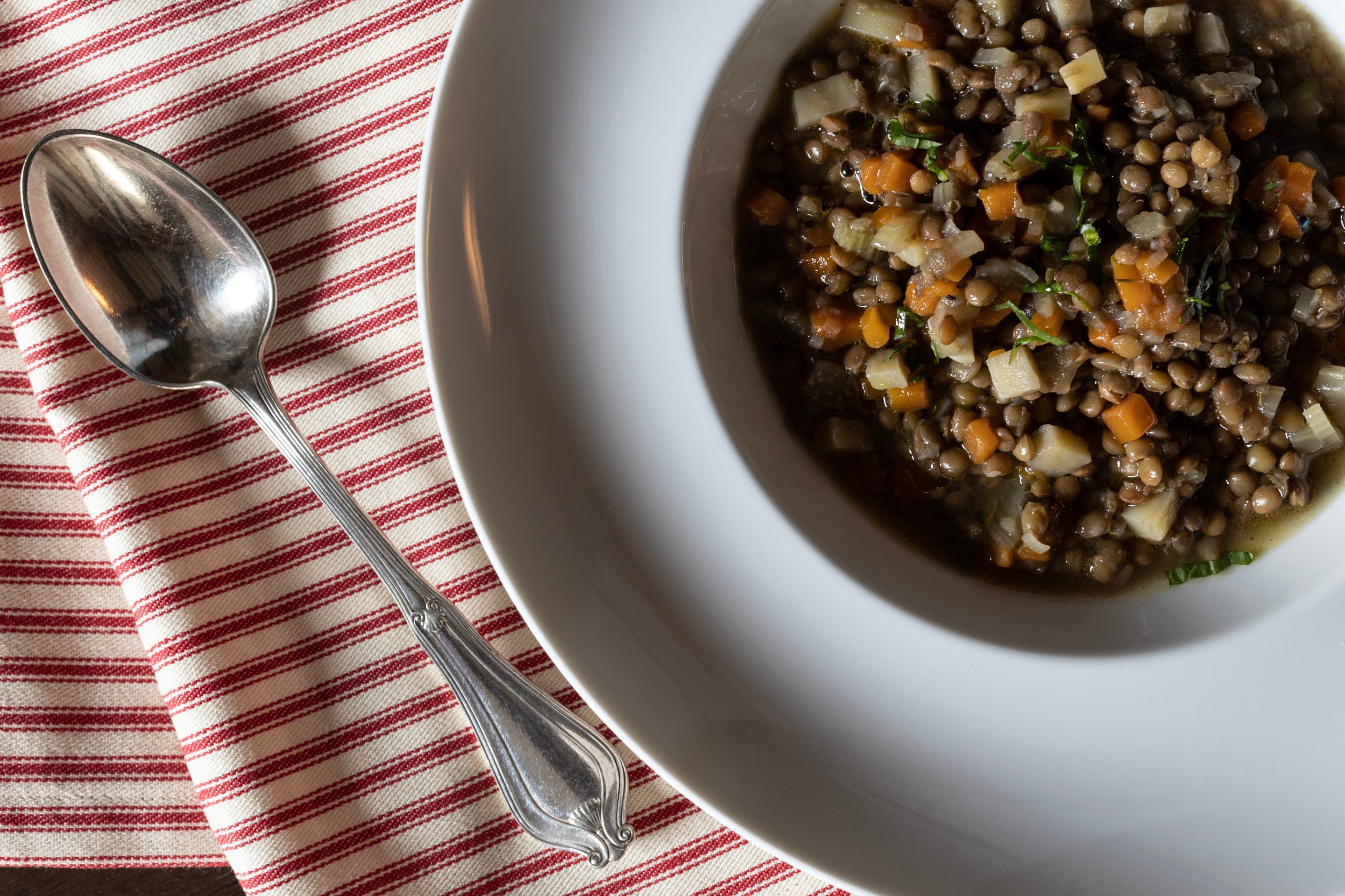 Gaetano Arnone has worked in some of New York's most respected gastronomic destinations, including Eataly, Dickson's, Salumeria Rosi, and several restaurants of the Bastianich group, serving as Chef de Cuisine at Babbo Ristorante & Enoteca and Executive Chef at ŌTTŌ Enoteca & Pizzeria. An alum of master butcher Dario Cecchini, of the famous Tuscan Antica Macelleria Cecchini, Gaetano returned to Tuscany during the pandemic with his wife Meigan and their Jack Russell Terrier, Radio, to live at Villa le Corti where he serves as a private dining chef and culinary gardner. Through regular contributions to Appetito, Gaetano will share episodes, insights and recipes from his life as "An American Chef in Tuscany."
It's a cold and rainy day in San Casciano Val di Pesa, a small village only 20 minutes south of Florence and the northern-most gate to Chianti Classico. I make a quick dash to the produce vendor before they close for lunch to get the ingredients for tonight's dinner: Lentil soup. With a paper sack of vegetables under my coat, I hurry back to my car and back home I go to cook. This is a standard day for me now. Not long ago, grocery shopping meant waiting for my Amazon Fresh delivery to arrive at my Upper West Side apartment on my day off from a New York City restaurant kitchen.  When the pandemic shut us all down, I took the opportunity to finally use the dual citizenship I had received almost 10 years earlier, and, with my wife, moved to Italy where our adventure began.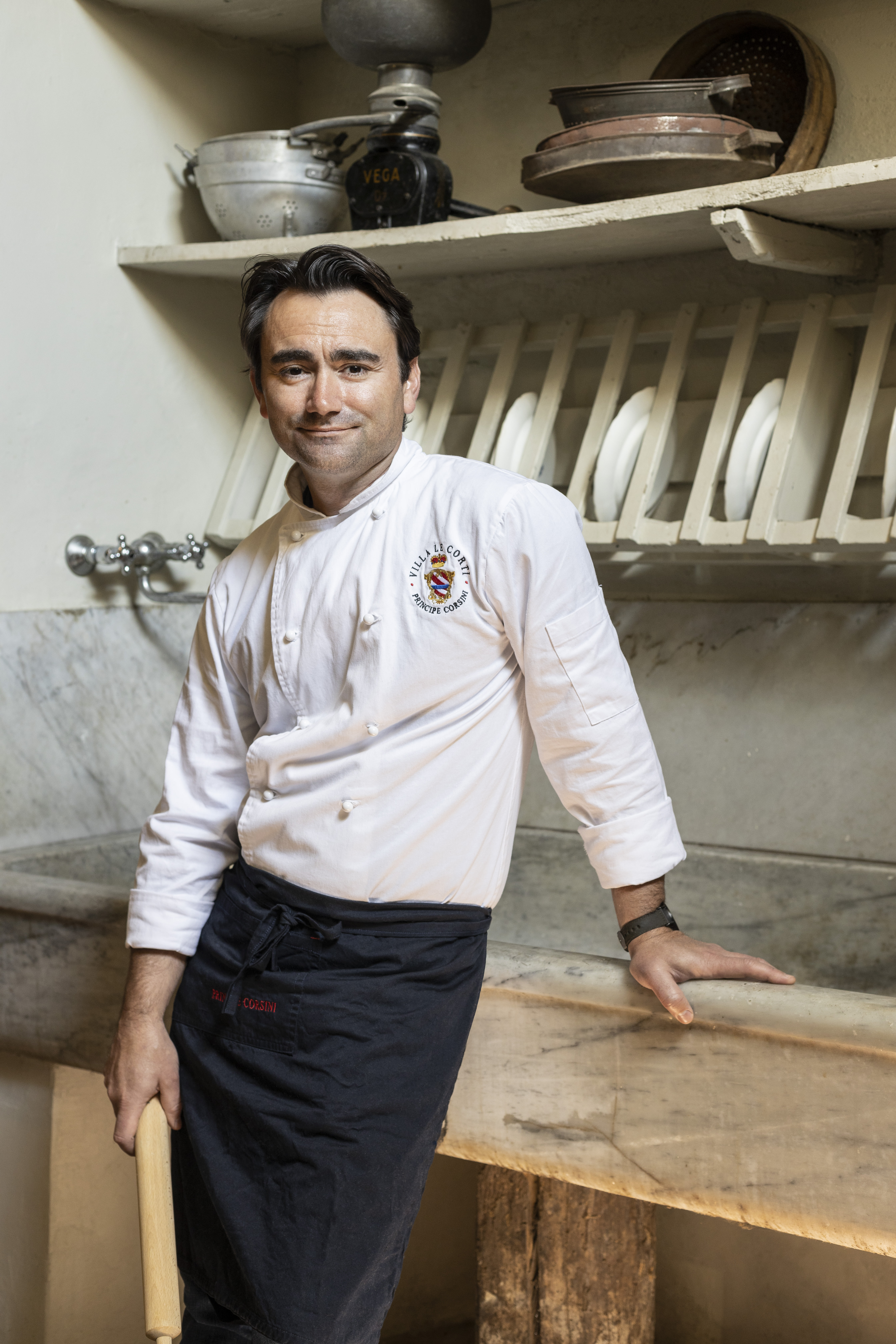 We are now living on the property of Villa Le Corti, a 17th century late-Renaissance villa where I teach cooking classes, prepare private dinners, and — with many failed attempts — try to create the kitchen garden that I used to dream about having when I was a chef in New York City.  
The idea was to come to Italy, cook with local ingredients, and learn the secrets of the Italian culinary canon at its source and through its people. Getting here was the easy part.  Finding the ingredients and meeting the people has become more challenging and rewarding than I ever imagined.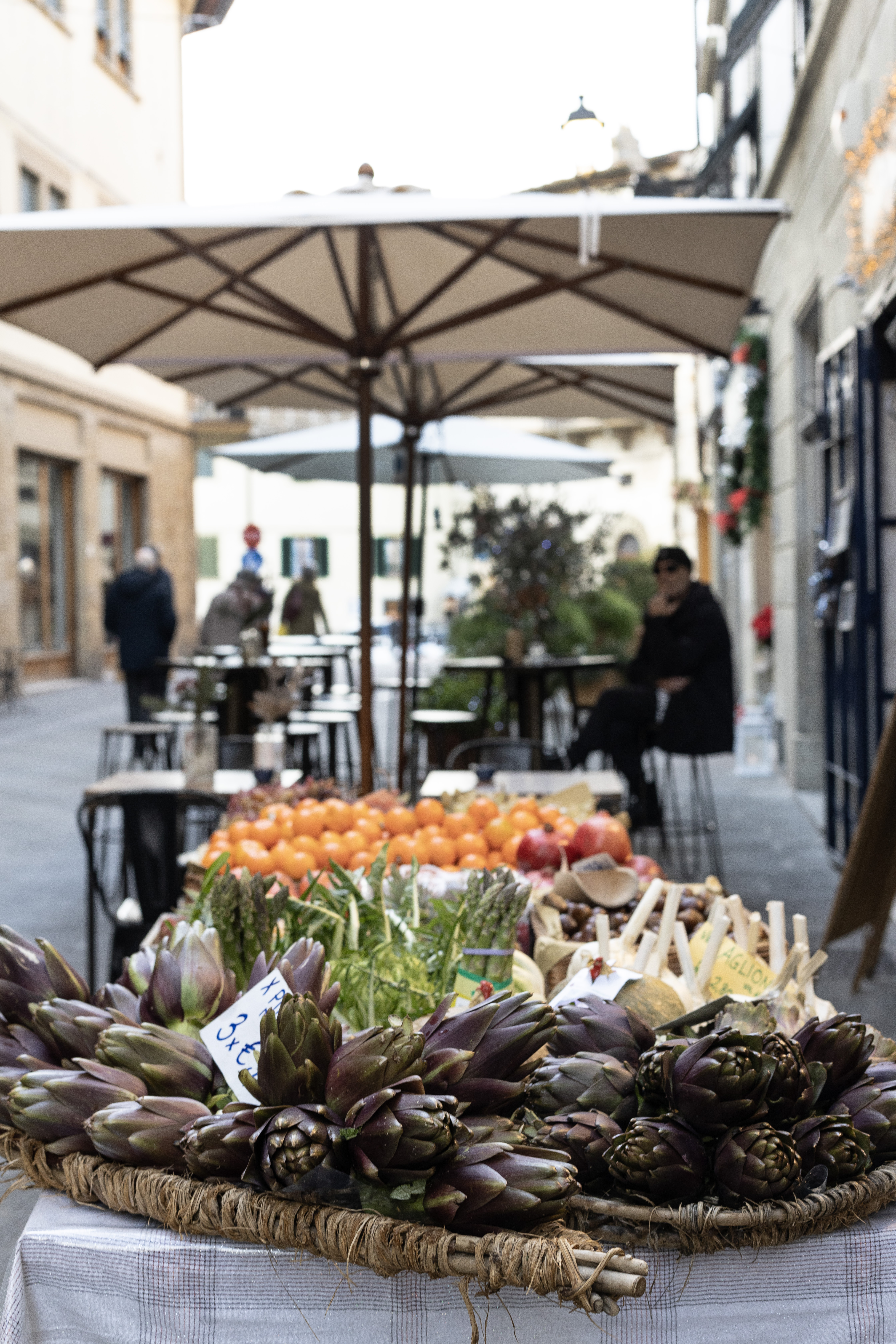 Each major city in Italy has its own central market with fruit stands and butcher counters teeming with visitors, smartphones in hand, angling for that perfect shot for their next post or reel.  Some vendors even joke back with "5 Euro for Instagram; 7 Euro for TikTok." Things in the small villages, however, work a little differently. In San Casciano, there are two produce vendors, three butchers, two bakers, and one pasta maker. Standing in the town's central piazza, one can turn 360 degrees and see each one. Which means they can see you too, and this is particularly problematic when you are the American Chef in the small Italian village. Shopping at one means not choosing the other. Buying a carrot or a pork chop can cause controversy. Bouncing around between shops can create a scandal. "Is he a spy?" "Did he not like the other guy's product?" "Was it the price?" It's a lot to deal with when you just need a carrot and a couple of onions.  
Once you get past that, there's the selection. The quality of ingredients in Italy is amazing.  Freshness, flavor, and organics are things that simply go without saying. Variety, on the other hand, is the next step in the market's ballet. It's not until you've come back a few times and they begin to recognize your face that other interesting ingredients seem to find their way from the back room to your bag. It's not because the vendors are being picky to whom they sell as much as it is about quantity and availability. I had to learn to ask for specific things.  Worst thing that can happen is they'll say "no." Most of the time, they'll say that it's not there that day, but to come back early the next day, and they'll find some.  
The last lesson — and by far the most important for me — is what I call shopping on a "Need to Know Basis." Now that they know that I'm a chef, they always want to know what I'm going to do with their product. This can, and has, backfired on me many times. If I want some short ribs to slow braise I may have to tell them a little white lie.  Otherwise, I could end up in the middle of a culinary debate between the butcher, the butcher's assistant, the butcher's wife, the woman waiting patiently in line behind me, and the old man taking his time to pay because he's just happy to be out of the house. After it's all done and over, I finally walk out with some lean shank meat because here in Tuscany that's just what you braise. The creativity and technique that I took for granted in NYC is seen here as a curiosity reserved for those fancy restaurants in the big city (visualize the waving hand gestures from behind the counter, similar to Queen Elizabeth's wave but informed by acrimony).
Fortunately, those hard lessons were behind me when I went to the village for my ingredients for lentil soup, and I was able to get back to my car before the rain soaks my paper bag full of vegetables. Tonight calls for a soup made with lentils from Castelluccio di Norcia di Umbria. Simple, healthy, delicious. Just like the ingredients found at the local vendors in the little Tuscan village that is now our home.  
Follow Gaetano on Instagram.
The Recipe
Stay in touch
Sign up for our free newsletter