Features
Do You Know These Lesser Known Food Traditions of Italy?
The guides behind a tour company that specializes in under-the-radar Italian destinations shares 11 lesser-known regional dishes that are worth knowing.
9:00 AM EDT on October 25, 2023
For nearly twenty years, we've made a business out of finding local food traditions in lesser-known places throughout Italy. When our clients at Little Roads Europe travel on one of our custom itineraries, we tell them what to look for, and where – and sometimes even when.
Here are a few of our favorite food traditions – ingredients or dishes particular to a town, a mountainside, a region, or even just a single restaurant. You can find these dishes roughly from south to north, starting with creations from our own little corner of Italy: Soriano, on the slopes of Monte Cimino north of Rome.
Ovoli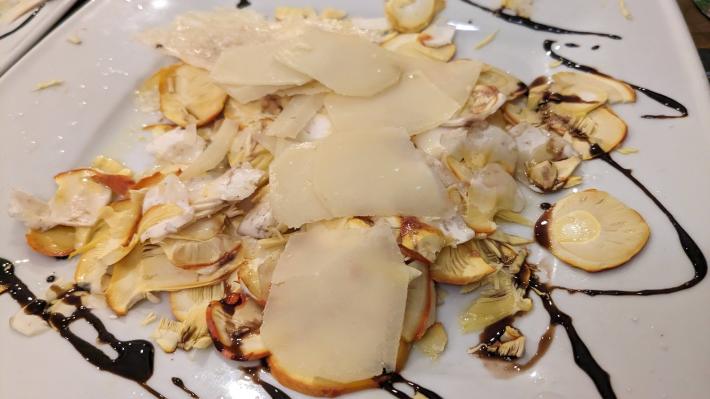 A distant fungi cousin to the more well-known porcini mushroom, ovoli mushrooms grow only in certain biozones and at certain altitudes, and only during a short period of time in the fall. These beautiful yellow mushrooms are served in various ways – in pasta sauces, on meats, or simply as a raw mushroom carpaccio, sliced paper thin and served with shaved pecorino. It's autumn on a plate – and our favorite plate of autumn can be found at Ristorante Tre Scalini, one of the restaurants in our very own home town of Soriano nel Cimino.

Fieno
The Italian word fieno literally means "hay." On the hillsides around Monte Cimino, though, it refers to the long pasta particular to the town of Canepina. Much finer even than what Americans call angel-hair pasta, it's served in several restaurants in the area. Diners can't go wrong, either with the restaurant selection or the choice of preparation – a traditional red ragu, a mushroom sauce (perhaps ovoli, depending on the season), or a fantasia del chef – sauced at the whims of the folks in the kitchen.
Castagne
The flanks of Monte Amiata in southern Toscana are the source of castagne —chestnuts — designated IGP (Indicazione Geografica Protetta), a traditional staple of the region. Our favorite treatment of these seemingly innocuous nuts is a fantastic chestnut and mushroom soup made at the family-run Ristorante Anna in Piancastagnaio. (The town name itself loosely translates to "the chestnut guy.") The soup is hearty, earthy, delicious, and based on a secret recipe – don't dare to ask for it. But you can definitely ask for a second helping!
Pansucchio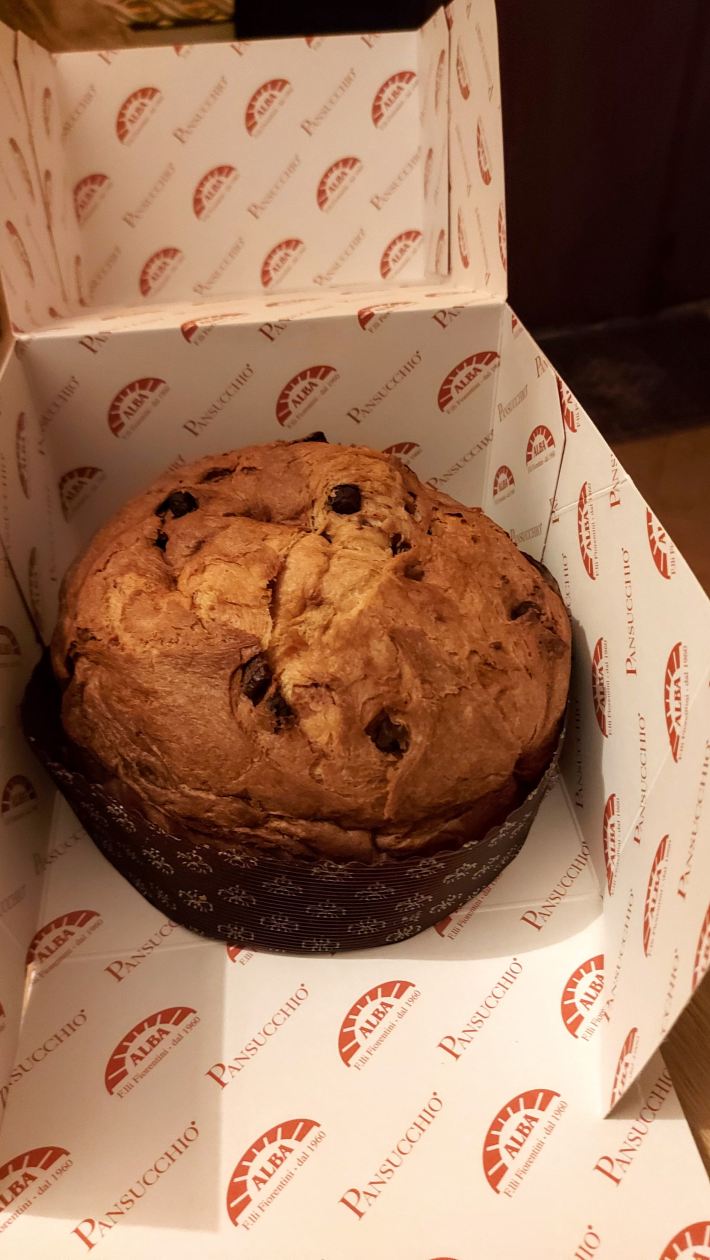 Chestnuts are used to make sweet goodies as well. Around the December holidays, the Pasticceria Alba family bakery in Viterbo (the larger city near our little town) makes a very special version of the traditional Christmas panettone cake: they call it pansucchio. It's made using their 70-year-old mother yeast; it's filled with chestnuts and dark chocolate, and then doused in rum – deliciously boozy. Half an hour before eating, you are supposed to turn it upside down, to let the rum soak throughout the cake. We always follow the instructions!
Agretti
This grassy, succulent springtime herb grows near salt water; sometimes even IN salt water. Also known as barbe dei frati ("monk's beard," but don't think too much about that idea as you're eating it), it is often served as a contorno (side dish) with lemon and oil; or incorporated into other dishes like potatoes, or baked into a frittata or atop a pizza. In any form, this is a crunchy, salty, and very healthy change from the usual vegetable options.
Garmugia
Speaking of eating your veggies: The ancient walled Tuscan town of Lucca is well-known to tourists, but in a recent trip there we encountered something new to us – a traditional Lucchese springtime vegetable soup called Garmugia. This soup is not necessarily pretty to look at, and it's not what travelers imagine when they think of Tuscan cuisine. But it's savory and delicious – you can feel the health benefits as you eat it. Peas, artichokes, favas, flat green beans, onions, a mix of local herbs… The specific ingredients might vary slightly (depending on daily availability of produce), but the overall recipe remains unchanged.
Culatello di Zibello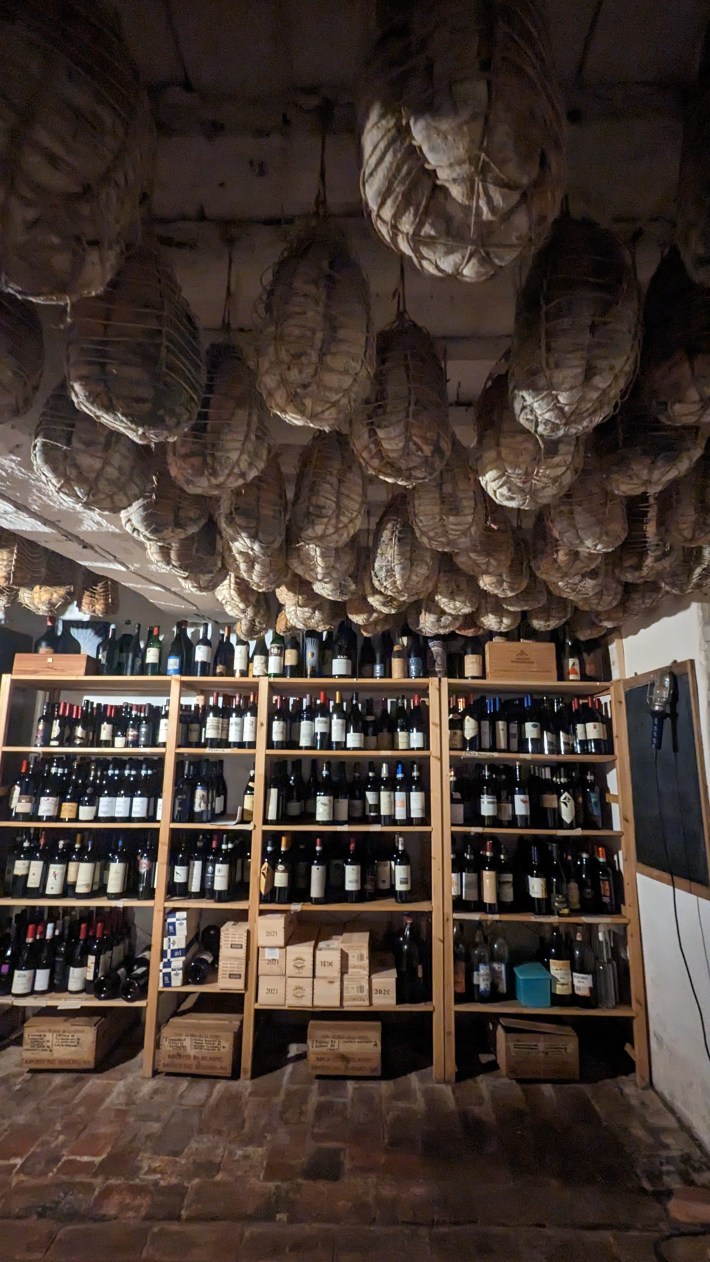 Most lovers of Italian food are familiar with prosciutto, the cured ham of the Parma province in Emilia-Romagna north of Tuscany. Culatello is to prosciutto what tenderloin is to a T-bone steak – the best cut.
In the tiny town of Zibello, Trattoria La Buca makes and serves the prized Culatello di Zibello – designated DOP, Denominazione d'Origine Protetta. The classification speaks to the production process, which is complex and very specific; it includes salting, tying up with twine in a particular fashion, and even massaging the meat. You can see dozens of curing culatello hams hanging on racks in the underground cantina of this locally famous trattoria.
Torta fritta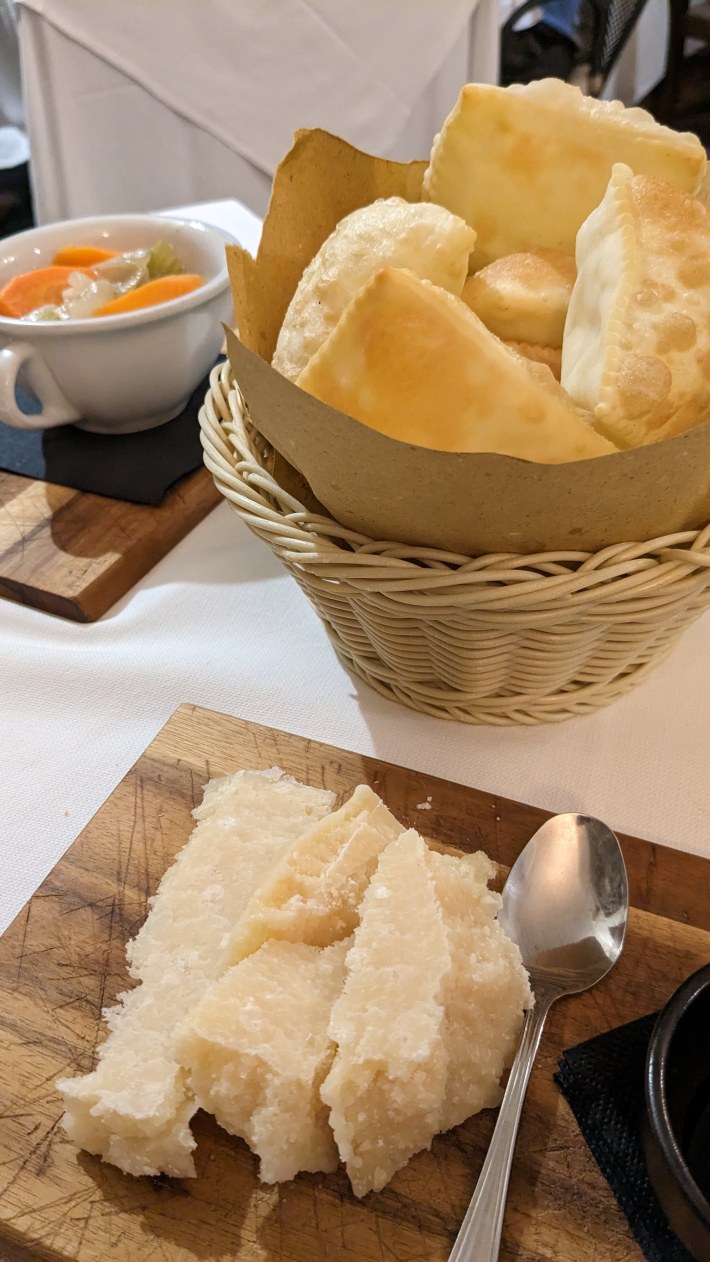 Though it's extremely common in most restaurants in Emilia-Romagna, most travelers may not be aware of this simple but delicious element of Emilianese cuisine: torta fritta – literally "fried bread." These are flaky and crispy fried dough pockets, served hot with the region's wonderful prosciutto and other salumi, parmigiano reggiano cheese, and various vegetable sides. It's fun to stuff the bread full of the cheese and meat, making a "Hot Pocket" that you actually want to eat.

Missoltini (preserved lake fish)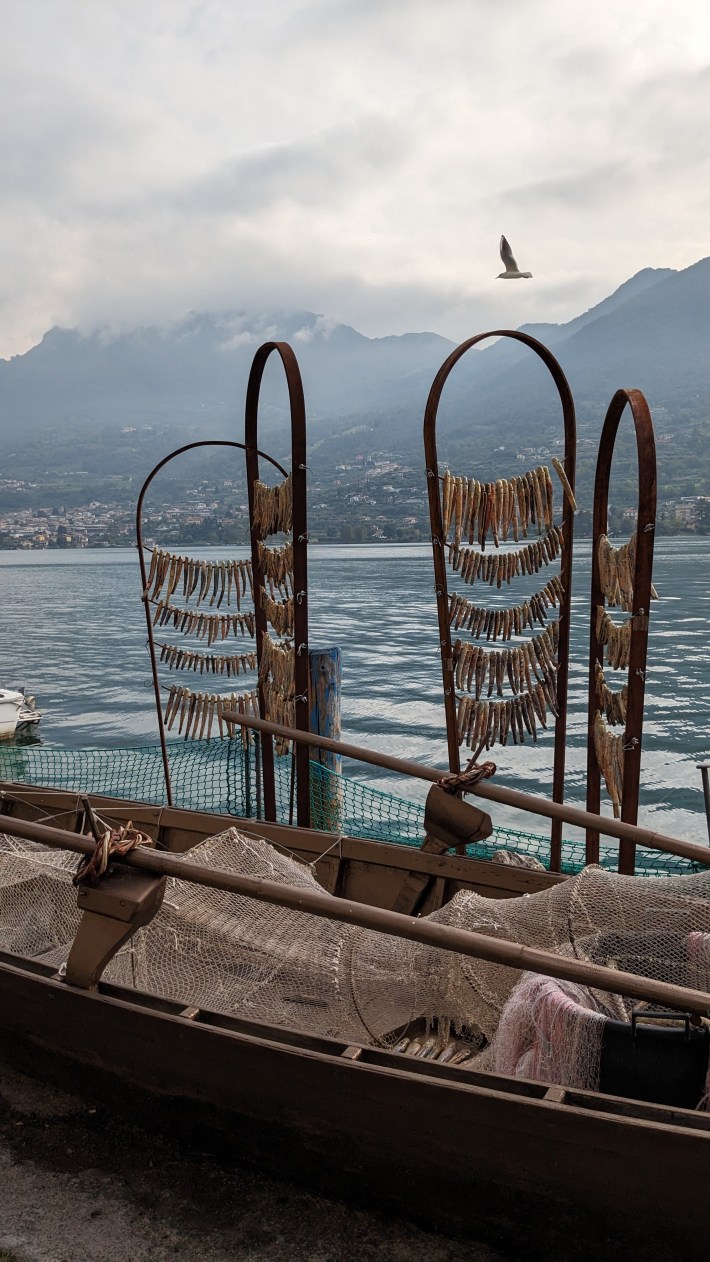 Far to the north, visitors to Italy's Alpine lakes will occasionally see an array of fish splayed and hanging in the sun on racks by the boat docks. These fish (called sarda or agoni, a type of shad) are prepared with salt for two days and then dried for a month or more, before being flattened and preserved in oil and herbs, and packed for later eating. This method of preparation and preservation dates back to the middle ages, when the fish were preserved in a wooden container called a missolta – from which comes the name of this VERY fishy dish, missoltini.

Vitello tonnato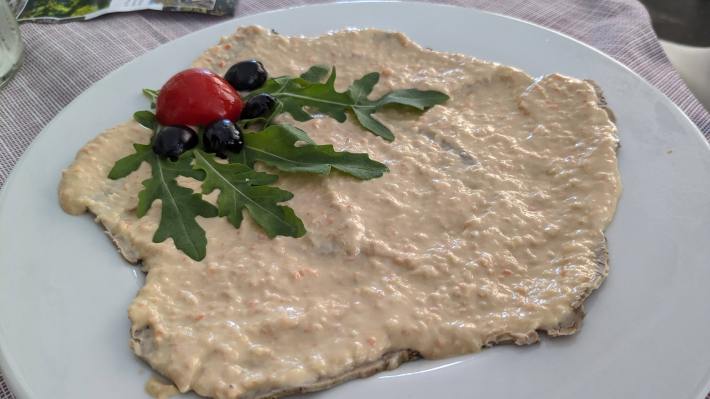 Though originating in the northern Piemonte region, this dish is popular throughout Italy, especially in summer: Thin slices of veal, served cold with a sauce flavored with tuna. Vitello tonnato varies from being considered a very fancy or a very simple plate, depending on the setting, and it doesn't always make for a pretty picture; but we always find it refreshing, especially on a hot summer day. Our favorite spot for this dish is in a little town north of our own: Tutto n'Arto Magna, a restaurant attached to a butcher shop – so you can be sure of the quality of the meat as well as the excellence of the cookery.
Liquore Borducan
Instead of a coffee after dinner, travelers might consider a digestivo liquore instead. (Especially if you're not driving afterwards!) Italy's bars and restaurants offer countless such drinks – from stiff grappa to smooth herbal distillations. It's nice to ask if they have a liquore fatto in casa – made in-house. One of our favorites is a bright yellow herbal elixir from Al Borducan, a beautiful restaurant in a tiny town high above Lago Varese in the north. Not sweet, not bitter – just right, and a great finish to a fine meal. You can bring a bottle home with you too!
---
These are just a few examples of foods that most travelers to Italy don't expect to find, or might not know to look for. But learning about and experiencing some of these traditions and elements of Italian cuisine greatly enhances the appreciation of what the country has to offer. So, be adventurous and eat your way through Italy!
Stay in touch
Sign up for our free newsletter